Reunion 2017 Showcases Interdisciplinary Research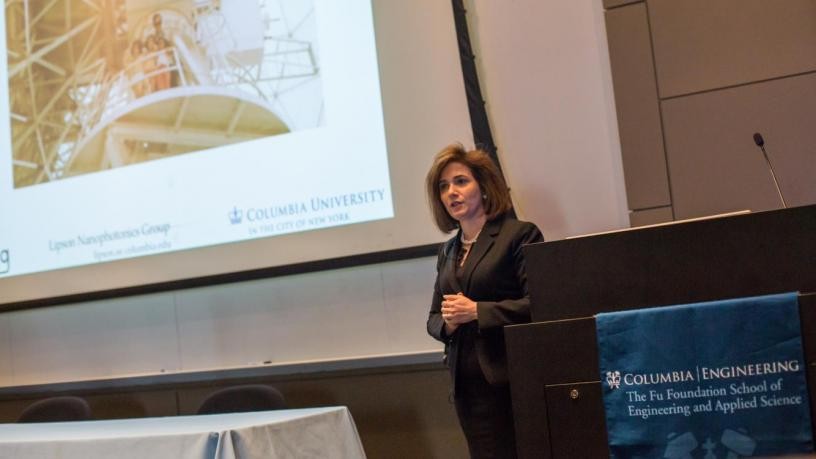 Columbia Engineering alumni back on campus for Reunion Weekend June 1 to 4 got an inside look at groundbreaking interdisciplinary research advancing at SEAS and among the Columbia community, from silicon photonics that enable more energy-efficient computing to data-driven innovations in healthcare.
After a Thursday evening welcome dinner in which the Pupin, Egleston, and Johnson medals were conferred, reunion kicked off Friday, June 2, with breakfast, a campus scavenger hunt, and an array of academic sessions with university faculty.  Presenters included Michal Lipson, Eugene Higgins Professor of Electrical Engineering, who is a MacArthur Fellow and pioneer in the field of silicon photonics.  She  discussed how, over the course of a decade, scientists and industry experts have made astounding advances in energy-efficient chips that transmit data with light instead of wiring to help keep massive machines from overheating and respond to the ever-expanding demand for data.
"By the year 2000, it was clear that computers weren't scaling up anymore based on the big issue of energy and power dissipation," Lipson said. "And if we had these problems on home computers, can you imagine how it was at data centers?"
Big companies have resorted to locating their data infrastructure on frozen tundra or even undersea, she noted, so there has been tremendous industry interest in cooler computing using light as fibers rather than conventional wires and cables. Silicon photonics researchers and engineers essentially apply insights from telecommunications to data communications, she explained.
"It's become one of the fastest-growing fields in physics," she added. "There are big advances happening everywhere."
Elsewhere on campus, presentations examined climate change, the university's Alexander Hamilton archive, and the ever-increasing contribution of Columbia women over the past 30 years. Guests also enjoyed a luncheon, tours of campus and Morningside Heights, and class-specific gatherings.
On Saturday, Dean Mary C. Boyce hosted a Dean's Day breakfast as alumni's children convened at Camp Columbia in Lerner Hall. In the afternoon, in addition to talks about Thucydides and Shakespeare's Othello, Shahram Ebadollahi, EN'99,EN'02, EN'05, BU'16 and Vice President of Innovations and Chief Science Officer at IBM Watson Health Group, spoke about his team's work applying artificial intelligence to improving human health. The task has been developing cognitive systems that can understand and learn at scale, reason with purpose, and interact naturally with humans for smarter healthcare, he discussed.
"People call this the era of artificial intelligence or augmented intelligence, but I prefer the term cognitive computing," Ebadollahi said. "It's about the symbiotic relationship between man and machine, and accomplishing minute tasks in the broader conceptual context."
Machines are currently approaching human accuracy when it comes to speech recognition, enabling deployment of cognitive computing even in emergency care environments, he explained. Apps collecting medical data are not only empowering physicians to provide better and more evidence-based care but helping patients improve their overall health outside the doctor's office.
"Diabetes is a data disease," Ebadollahi said, in reference to the volume of information patients and physicians collect to monitor and manage the condition.
The evening concluded with a variety of receptions, including gatherings for veterans and alumni of color, a wine-tasting, a starlight reception in front of Low Library, and a farewell brunch Sunday morning.