EE/CE 2022 Graduate Student Awards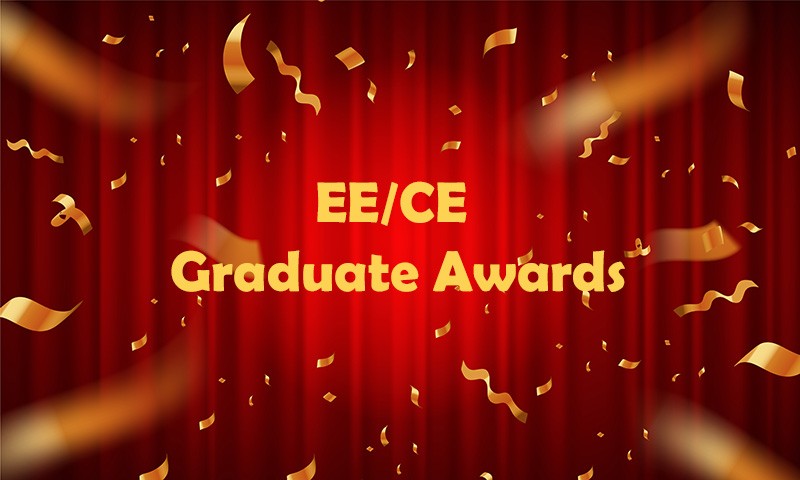 Armstrong Memorial Award
Awarded annually by the Faculty of Electrical Engineering to one outstanding candidate for the M.S. degree to honor the late Edwin Howard Armstrong, professor of Electrical Engineering and inventor of wideband FM broadcasting, the regenerative circuit, and other basic circuits of communications and electronics.
Jiaang Yao 
Desmond was a BS/MS student, who completed his BS degree May 2020 and received his MS degree in May 2021. After graduating from Columbia, Desmond joined the Bioengineering PhD program jointly hosted at UC Berkeley and UCSF, and is currently working on brain-machine interfaces and system neuroscience.
Jury Awards
For outstanding achievement by a graduate student in the areas of circuits, systems and communications, and signal processing.    
Sam Buchanan
Sam is a PhD student under the supervision of Prof. John Wright and will be graduating in October 2022. 
Aravind Nagulu
Aravind Nagulu graduated in February 2022 with a PhD under the supervision of Prof. Harish Krishanaswamy developing and prototyping novel time-varying circuits and systems for next-generation communications, imaging, and quantum information processing. Upon graduating with a Ph.D. degree, he joined as an Assistant Professor in the Electrical and Systems Engineering department at Washington University in St. Louis..
EE Collaborative Research Awards
To be given to PhD candidates who make a superb contribution to a collaborative research effort.
Stephen Xia
Stephen is currently finishing his PhD degree in October 2022 under the supervision of Prof. Fred. Jiang.Stephen's research focuses on the intersection of embedded systems, signal processing, and machine learning will help advance our understanding of how to design low-power, low-latency, and safety-aware IoT systems. His PhD thesis on intelligent and adaptive audio filtering will transform acoustic-enabled applications.
Zhaowen Wang
Zhaowen Wang completed his PhD in February 2022. During his Ph.D, he worked on the efficient and high-performance clocking for high-speed data links under the supervision of Prof.  Peter Kinget. In 2022, he joined AMD, San Jose, CA, USA. His current research interests include analog and mixed-signal circuits for high-performance electrical and optical links.
MS Award of Excellence
Awarded to the MS students with the highest GPAs
Alfred Festus Davidson
Alfred Davidson is an MS-PhD track student in the Department of Electrical Engineering, and is a member of the Columbia High-Speed and Millimeter-wave IC Lab advised by Prof. Harish Krishnaswamy. 
Gavin Mischler
Gavin Mischler is studying is an MS/PhD under the supervision of Nima Mesgarani in the Neural Acoustic Processing Lab. 
Yunran Zhou
Yunran was an MS student who performed research in the group of Prof. Mingoo Seok who graduated in February 2022 
Bo Feng
Bo Feng is an MS student who graduated in February 2022 
MS Research Award 
This award is presented to MS candidates who make a superb contribution to a research project. 
Alex Angus
Alex Angus performed research with Professor Kostic as part of the COSMOS smart city traffic intersection research group. In August 2022, he will be joining Qualcomm in San Diego as a GPU research engineer working on low power AI hardware
Saravanan Govindarajan
Saravanan Govindarajan graduated from the Master of Science in Electrical Engineering program in December 2021 with a focus on data-driven analysis and computation and was a member of Professor Gil Zussman's WiMNet lab. He's currently working at Meta to develop and deliver new cutting-edge technologies for current and future Meta AR/VR products 
Millman TA Awards For Outstanding TA's
Awarded to graduate students who demonstrate outstanding performance as a Teaching Assistant. $250
Asher Novick
Asher Novick is currently working toward his Ph.D. degree in Electrical Engineering in the Lightwave Research Laboratory at Columbia University in the City of New York. He served as the Teaching Assistant for multiple classes including ELEN 4215 (Analog Filter Synthesis & Design) in the Fall 2019 and ELEN 3401(Electromagnetics) in the Springs of 2020, 2021, and 2022. His current research interest is in the modeling, design, and testing of silicon photonic systems and devices for scalable and efficient link architectures.
Austin Ebel
Austin Ebel graduated with a B.S. in Electrical Engineering from Columbia in 2020 and has since been doing research with Debasis Mitra. He was the Teaching Assistant for "Internet Economics: Engineering and the Implications for Society" and will begin a Ph.D. at NYU next year in privacy-preserving machine learning. 
Graduate Student Service Award
Awarded by the Faculty of Electrical Engineering to an Electrical Engineering graduate student who has made significant contributions to the Department and community at large 
Tingkai Liu 
Tingkai Liu joined Columbia in 2016 as an MS/PhD student, and works with Prof. Aurel Lazar in the Bionet Lab. After PhD, he plans to work on developing next generation Brain Computer Interface devices. 
Sriddha Chaitanya
Sriddha Chaitanya is a Graduate Research Assistant in Prof. Michal Lipson's group and is working on Silicon/Silicon Nitride platforms for nonlinear nanophotonic applications.