EE Professors and Students Score Big at NYC Media Lab's Annual Summit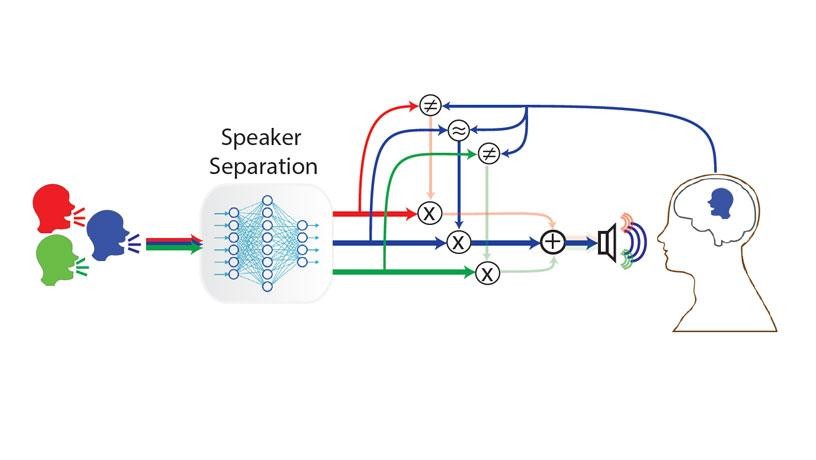 Nima Mesgarani's project aims to help people who are hearing impaired have an easier time following a conversation in a multi-speaker environment such as a noisy restaurant or a party.
Columbia Engineers garnered many of the awards, including the grand prize, at NYC Media Lab's Annual Summit on September 20. More than 1,000 attendees, from entrepreneurs, engineers, creative technologists, product designers, data scientists, and makers to thought leaders and technologists from leading digital media, technology, and communications companies, attended the summit, held this year at The New School. The event showcased some 100 interactive demos of emerging media and technology from NYC Media Lab's consortium of universities, including Columbia University, NYU, The New School, CUNY, Pratt, and Cornell Tech.
"This was a great opportunity for our students and faculty to showcase their innovative, cutting-edge work," said Mary Boyce, Dean of Columbia Engineering. "We are proud of their extraordinary creativity and their ability to cut across disciplines to create an exciting and better world for all of us."
Associate Professor of Electrical Engineering Nima Mesgarani and postdoctoral research scientist James O'Sullivan at the Mortimer B. Zuckerman Mind Brain Behavior Institute, won the grand prize of $10,000 for their project, "Towards a Mind Controlled Hearing Aid: Decoding Attention Without Access to Clean Sources." The researchers are developing a system that will help people who are hearing impaired have an easier time following a conversation in a multi-speaker environment such as a noisy restaurant or a party. Their end-to-end system receives a single audio channel containing a mixture of speakers by a listener along with the listener's neural signals, and automatically separates the individual speakers in the mix, determines which speaker is being listened to, and then amplifies the attended speaker's voice to assist the listener.
Computer Science Lecturer Ansaf Salleb-Aouissi, Neil Menghani CC'19, and Andrew Lee (BS'20) won second place and $2,500 for their project, "Analyzing Parental Blog Posts to Answer Concerns about Infant Colic." They are exploring methods of applying natural language processing to a large corpus of text collected from discussion forums for new parents dealing with infant colic, a condition consisting of episodes of inconsolable crying in otherwise healthy babies. View their project here.
Another Columbia Engineering win included, in the Engineering category, graduate students Rand Hidayah (PhD) and Siddharth Chamarthy (MS) for their project "C-Alex with Hololens for visual feedback." They are working with Sunil Agrawal, professor of mechanical engineering and of rehabilitation and regenerative medicine, on C-ALEX, an exoskeleton that measures a person's leg and provides visual feedback through the hololens and haptic feedback at the same time, to improve walking gaits.
A second winning electrical engineering team, also judged in the Engineering category, included Jin Zhou (PhD'17), now an assistant professor at the University of Illinois Urbana–Champaign, PhD students Tingjun Chen and Mahmood Baraani Dastjerdi, MS student Guy Farkash, undergrad student Jackson Welles, and Professors Harish Krishnaswamy and Gil Zussman. Their project, "Open-Access Full-Duplex Wireless in the ORBIT Testbed," presented a practical open-access full-duplex radio enabling simultaneous transmission and reception on the same frequency channel for 5G wireless communications. The full-duplex radio was integrated into the ORBIT testbed. The full-duplex experiment is one of the pioneer experiments for the NSF PAWR COSMOS project, a testbed of wireless networks in New York City for U.S. researchers to test new ways of boosting Internet speeds to support data-intensive applications in robotics, immersive virtual reality, and traffic safety.
Computer Science Professor Steve Feiner and Teachers College Professor Barbara Tversky worked with CS research staff member Carmine Elvezio, General Studies CS senior Frank Ling, and CS PhD student Jen-Shuo Liu to win in the XR (virtual, augmented, and mixed reality) category. Their project, "Collaborative Exploration of Urban Data in VR and AR," enables multiple users in VR and AR to collaboratively explore live urban data in the context of an immersive scale model of New York City.
In all, NYC Media Lab awarded $25,000 in prizes for emerging media technology research projects, prototypes, and startups. Learn more about all the winners, or browse the demo expo.
Original article is here.