Shahram Ebadollahi MS'99, PhD'05: Revolutionizing Health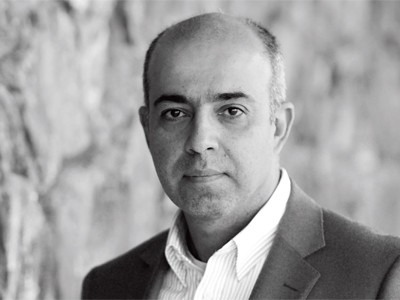 The world is looking at a new era in wellness and health care, according to Shahram Ebadollahi MS'99, PhD'05—and as the VP of innovation and chief science officer of IBM Watson Health, he's helping lead the charge to make health care smarter, faster, and more efficient around the world.
Announced in April, the new business unit from Armonk, New York–based IBM is dedicated to what Ebadollahi called "Computational Health": collecting and curating the ever-increasing amounts of health data being generated through clinical trials, studies, patient information, and even user-generated health information from tech wearables like FitBit or Apple Watch.
And more importantly, he remarked, it will use that data to chart insights and connections—and then take those insights to create solutions and drive improvements that help doctors, insurers, and researchers transform how they work.
"Health care is at an inflection point," Ebadollahi said. "Health care costs are unsustainable, data is becoming increasingly available through digital devices, and new technologies like cloud computing are giving us scale and the opportunity to do advanced analytics. There's a meaningful way we can work with that trove of available data to help researchers, heath care professionals, and payers improve the delivery, efficiency, and outcomes across health care."
Ebadollahi's background in the field goes back to his time at Columbia Engineering. After getting his MS in electrical engineering, he began his PhD research focusing on signal and image and multimedia content analysis and retrieval under Shih-Fu Chang, Richard Dicker Professor of Telecommunications, director of the Digital Video and Multimedia Lab, and senior vice dean of the Engineering School. Ebadollahi's work was part of a Columbia Health Care Digital Library Project called PERSIVAL, designed to pull together disparate sources of health care records and information for both physician and patient use.
His research at Columbia led to Ebadollahi being recruited by IBM after graduation. Between 2005 and 2014, he worked on the Health Care Transformation project, defining strategy and setting research objectives. He also started and led the Health Informatics research across IBM global labs. Last year, he was instrumental in the formation of what would become IBM Watson Health.
Ebadollahi says the possibilities for the unit are huge—whether it's using data and cognitive computing to help clinicians and patients to personalize and improve their interactions, or creating cloud-based technology platforms for use by biomedical companies to better manage disparate, regulated data. In addition, the unit has partnered with companies including Apple, CVS Health, Medtronic, and Johnson & Johnson, and through its network of partners could be involved in creating new solutions for use across health care and life sciences.
And, he added, not just for the United States. "This will be global," he noted. "The issues in many countries, especially emerging markets, may be different, such as access to health care."
Furthermore, while it is very early days, Ebadollahi said expectations are high. "As I talk to more and more people out there, there is a tremendous amount of interest in what we're doing, and a lot of expectations," he remarked. "Our CEO Ginni Rometty called [the impact we can have on health care] 'the moonshot of our generation'—so the biggest challenge will be how fast we can execute."
Ebadollahi credits his time at Columbia for putting him on the path he's on today.
"Working on PERSIVAL was the project that applied my background in electrical engineering to the domain of medicine," he said. "A lot of the know-how and domain expertise comes directly from that."