SEAS Researchers Build Winning Technologies with NYC Media Lab, Verizon
Several research groups from Columbia Engineering are teaming up with NYC Media Lab and Verizon to advance their projects in media technologies. The Lab, a consortium of universities and media and technology companies, is running two challenges and Columbia teams are at the center of both.
Nearly 60 teams submitted proposals to the NYC Media Lab Combine, a new program to commercialize emerging media technologies and startups from faculty and students at the City's universities. Nine teams, including three from Columbia Engineering, were selected for the inaugural cohort that will advance their concepts into a market validation program. Each team is supported by an initial grant of $25,000.
Throughout the Combine program, NYC Media Lab is matching teams with industry mentors. The program will culminate with a demo day on April 8, when teams will pitch their concepts to NYC Media Lab corporate member advisors and potential investors. Successful program outcomes will include startup formation, technology licensing, and hiring.
Three Columbia teams also won a second NYC Media Lab challenge, this one presented in partnership with Verizon. The Verizon Connected Futures Research and Prototyping Challenge offers grants to support research and prototyping projects focused on connected devices and hardware, journalism, and virtual reality. Fourteen teams in all won awards for Verizon-designated topic areas: the world without phones, empowering citizen journalism, smart home, and virtual reality. During the prototype development phase of the challenge through April, teams will receive feedback and mentorship from Verizon executives.
The Columbia teams chosen for the Combine are:
The AMuSe project was motivated by the need to wirelessly deliver video to mobile devices in crowded venues, for instance, to viewers in a football stadium who want to see a replay of a recent touchdown on their phones.
AMuSE
Varun Gupta, Craig Gutterman, and Gil Zussman
Department of Electrical Engineering
The AMuSe ( Adaptive Multicast Services) Project, a joint SEAS/Bell Labs project, is a system for multimedia content (e.g. video) delivery via WiFi to very large groups. The project was motivated by the need to wirelessly deliver video to mobile devices in crowded venues, for instance, to viewers in a football stadium who want to see a replay of a recent touchdown on their phones. WiFi support for multicast, sending the same message to several devices, is limited, and so PhD students Varun Gupta and Craig Gutterman, working with their advisor Gil Zussman, associate professor of electrical engineering, and Yigal Bejerano from Bell Labs, have been developing a system that collects accurate feedback (channel quality) from a small number of users and adapts the transmission accordingly. The team ran and evaluated aprototype of the system in the ORBIT testbed at Rutgers University with more than 200 WiFi devices.
News Rover
Joseph Ellis, Hongzhi Li, Dan Morozoff, Brendan Jou, and Shih-Fu Chang
Departments of Electrical Engineering and Computer Science
News Rover shows a summary of important news events that are automatically discovered in real time by processing more than 100 live broadcast television channels and event lists from user-curated websites. Built on patented technologies, the system automatically extracts meaningful information from videos, such as who is speaking and the topic of discussion. Using the extracted text, visual, and metadata content, the Columbia team behind News Rover organizes news video stories and news articles into coherent collections of heterogeneous documents (videos, articles, Wikipedia pages, etc.) News Rover's interactive interface enables users to search for specific news events across multiple years, and to visualize the multimedia content in an organized fashion, augmented by video segments of the most important people speaking about the particular event.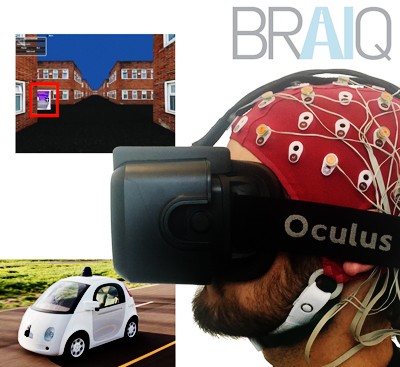 Brain-Deep AI Interface
Sameer Saproo, Paul Sajda, Victor Shih, and Sonakshi Bose
Before self-driving cars go mainstream, car makers need to address questions of trust. What will make passengers willing to trust their lives to a machine? Paul Sajda, a professor of biomedical engineering, and his lab, led by researcher Sameer Saproo, will explore ways to make people feel more confident in autonomous machines. Their project, which incorporates the acronym for Artificial Intelligence in its name, BrAIq, will use sensors to measure brain activity and physiological arousal in human subjects to infer their psychological state during a simulated ride in a driverless car. That information will feed back to the machine to adapt its behavior. 
The winning Columbia teams in the Verizon challenge are:
News Rover
Joseph Ellis, Shih-Fu Chang, Hongzhi Li, Daniel Morozoff
In this Verizon challenge, the team is developing new technologies to automatically integrate images and videos in user-generated content with live broadcast news videos in real time. The system discovers rich visual user-generated content from Instagram, Vine, and Twitter that add important supplementary information to news broadcasts, and help track the impact of breaking news events in social media.
Low-cost Bluetooth Connected Plant Monitor
Ioannis Kymissis, Caroline Yu
Department of Electrical Engineering
The team is developing a low-cost plant monitoring system that helps people take better care of their plants. The device is a small waterproof battery-powered plant spike that is placed in the soil and then reports back on temperature, water, and illumination to the plant. The software uses an automation hub and the user's cell phone to update the system status, and notifies the user if attention is required.
Using Beamforming for Wireless Power Transfer in an IoT Architecture
Pavan Yedavalli, Xiaodong Wang 
Department of Electrical Engineering
In the near future, there will be billions of connected devices in the Internet-of-Things (IoT) paradigm, and many will be such consumer gadgets as phones. This project focuses on using beamforming for wireless power transfer. The research group, led by Professor Xiaodong Wang and PhD student Pavan Yedavalli, is developing a power beacon that concentrates electromagnetic energy toward the direction of these gadgets while canceling out unwanted radiation. The team plans to implement a novel, computationally lightweight beamforming algorithm that provides levels of power usable for IoT devices. As the world continues to become more reliant on mobile devices and ubiquitous connectivity, the need to power these devices in a seamless fashion will also grow, making this an important technological problem to tackle in the near future.
"The mission of NYC Media Lab remains the same as at its inception: to build a program of engagements between institutions of higher education and the digital media and communications industry to encourage the next generation of talent in New York City," said Justin Hendrix, executive director of NYC Media Lab. "These programs match talented entrepreneurs and technologists from the City's universities with expertise and resources from NYC Media Lab to drive innovation."
Original article can be found here.