National Academy of Inventors Taps Prof. Anastassiou as New Fellow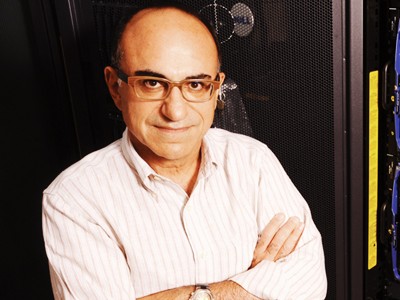 He may not be a household name but his inventions are. Dimitris Anastassiou, whose U.S. patents have been adopted in widely used products including all digital television sets and DVD players worldwide, has been elected to the National Academy of Inventors' (NAI) new class of fellows—leading innovators representing 94 prestigious universities and research institutions. Collectively, the new fellows hold more than 5,600 U.S. patents.
"I feel honored to be recognized as having done relevant research that has been adopted in products used worldwide," says Anastassiou, Charles Batchelor Professor in Electrical Engineering. "Soon after I finished my PhD, I realized that I enjoyed most doing relevant research, which naturally led me to become an inventor. I'm excited by the prospect that my ideas can make a concrete practical difference, however small."
Indeed, a small-scale difference is atypical of Anastassiou's inventions. A pioneer in digital technology, he has 14 issued U.S. patents under his belt, including patents used in the international standard behind digital TV. Among other technology breakthroughs, Anastassiou's research has resulted in Columbia being the only university in a consortium that licenses MPEG-2, the technique used in all forms of digital television transmission and storage, including DVDs, direct satellite TV, Blu-ray players, digital cable systems, personal computer video, and interactive media.
However, since the last decade, Anastassiou has turned his research focus to an entirely different area: cancer research. Earlier this year, his research group developed a new computational model that is highly predictive of breast cancer survival. Now focused mainly on systems biology, Anastassiou has been looking into precise molecular signatures that are present in identical form in biopsies from multiple types of cancer, believed to represent important biological mechanisms of cancer in general. "I hope that we can make good use of them in biomarker products that will help doctors decide on best treatments and will also provide ideas for the development of therapeutics that target these mechanisms," notes Anastassiou. "I'm very excited about this topic and I plan to spend the rest of my career on it."
Election to NAI fellow status is a high professional distinction accorded to academic inventors who have demonstrated a spirit of innovation in creating or facilitating outstanding inventions that have made a tangible impact on quality of life, economic development, and the welfare of society. Anastassiou is part of a class of new fellows that includes presidents and senior leadership of research universities and institutes, members of the National Academies, inductees of the National Inventors Hall of Fame, recipients of the U.S. National Medal of Science, and Nobel Laureates. 
The fellows will be inducted by the Deputy U.S. Commissioner for Patents, Andrew Faile, from the U.S. Patent and Trademark Office, during its National Academy of Inventors conference, set for March 7, 2014, in Alexandria, VA.