Vishal Misra named IEEE Fellow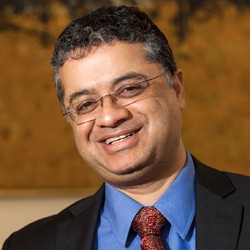 For contributions to "network traffic modeling, congestion control and Internet economics," Vishal Misra has been named a Fellow of the Institute of Electrical and Electronics Engineers (IEEE), the highest grade of IEEE membership and limited every year to one-tenth of one-percent of the total voting membership.
"Throughout my career I have attempted to solve real world problems via mathematical modeling and analysis," says Misra. "While I am deeply honored by this recognition by the IEEE, the credit for it goes to all my great collaborators who have ensured that our work has had an impact."
On the faculty of the Computer Science and Electrical Engineering departments at Columbia University, Misra in his research emphasizes the use of mathematical modeling to examine complex network systems, particularly the Internet. It's an approach that has been highly productive from the start. His PhD thesis work on modeling Internet congestion, done in collaboration with colleagues, opened up entirely new directions in TCP analysis and led to better control mechanisms, helping achieve high throughput, low latency, and low packet loss on Internet links. Software that grew out of Misra's PhD thesis is now being deployed in all cable modems worldwide.
In a 2008 paper, he and colleagues used mathematical modeling to examine the pricing policies and profit motives of Internet service providers, in the process identifying at an early stage the economic incentives that would later give rise to paid peering; Misra was thus one of the first in academic circles to warn that network neutrality issues are not resolvable without first understanding Internet economics.
Recently as network neutrality has become a political issue, particularly in the US and India, Misra has actively participated in the public debate, contributing articles and interviews to leading media outlets. Earlier this year, he appeared before the Indian Parliament to present his views on zero rating, a policy contrary to network neutrality. Misra's opinions and expertise are sought not only for his deep technical research, but also for his real-world experience building Internet-based businesses. While still a graduate student, he co-founded the sport website Cricinfo (acquired by ESPN in 2007); more recently he founded the data center storage startup Infinio.
Misra's elevation to IEEE fellow is an important achievement in a career that has previously earned him a National Science foundation CAREER Award, a Department of Energy CAREER Award, and Google and IBM Faculty Awards. 
Misra received his B. Tech. from IIT Bombay (1992) and an MS (1996) and PhD (2000) from UMass Amherst, which awarded him in 2014 a Junior Alumni Award for extraordinary effort and notable early-career success.

Photo credit: Tim Lee
Original article is here.