Columbia Engineers Part of New Integrated Photonics Manufacturing Innovation Hub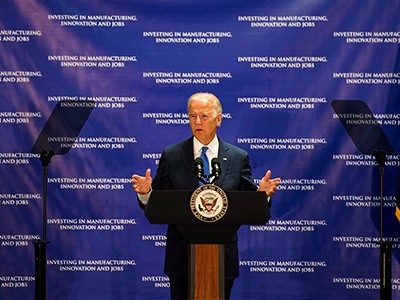 Columbia Engineering's photonics experts, including Professors Keren Bergman, Michal Lipson, and Alex Gaeta, are an integral part of an exciting new Integrated Photonics Manufacturing Innovation Hub in Rochester, NY, announced by Vice President Joseph Biden at a press conference on July 27. In winning the bid, the NY-led consortium captured the largest federal investment—over $610 million, with $110 million in federal funds, and more than $500 million in non-federal contributions—to date under the Obama administration's National Network for Manufacturing Innovation.
The winning team, American Institute for Manufacturing Integrated Photonics team (AIM Photonics), was selected by the Department of Defense (DoD) and is led by Michael Liehr from SUNY Polytechnic Institute's Colleges of Nanoscale Science. The consortium of 124 companies, nonprofits, and universities includes the University of Rochester, Rochester Institute of Technology, MIT, UCSB, and University of Arizona, as well as Columbia.
"We are tremendously excited to be a part of this historic launch establishing the first US-based manufacturing institute entirely dedicated to integrated photonics," says Bergman, who is the Columbia lead for the project. "AIM Photonics will encompass the complete infrastructural ecosystem for fostering the growth of a new domestic industry propelled by the unique capabilities of integrated photonics to manipulate, transport, and control light at the chip scale, which will then catalyze the integration of powerful photonic capabilities in a multitude of industrial and military applications."
The project is also a big win for the recently launched Columbia Nano Initiative (CNI), an interdisciplinary community within the University focused on advancing research efforts in nanotechnology (nanoscale science and engineering). The potential for AIM Photonics to realize the transition of scientific breakthroughs that have emerged with the advent of nanoscale photonics to a sustainable U.S. technology manufacturing infrastructure underscores CNI's mission.
"Indeed, the auspicious AIM Photonics timing coincides with our launch of CNI and the University's substantial investment in creating and operating a state-of-the-art constellation of nanoscale shared facilities and cutting edge instrumentations capabilities," adds Bergman, who also serves as CNI's scientific director.
The DoD considers integrated photonics—the optical means to communicate the large volumes of data in computing and communications systems—a critical technology area and is betting that AIM Photonics will help spark new growth in manufacturing, building on the area's legacy of leading optical and photonics technology capabilities, and bridge advanced research and commercial product development, yielding critical defense and telecommunications advances. Columbia brings its leading expertise in optically interconnected advanced high performance embedded computing and data centers systems that uniquely integrate terabit-scale integrated photonics for performance and energy efficiency validation.
Original article available here.