Electrical Engineering PhD Students Win Qualcomm Innovation Fellowship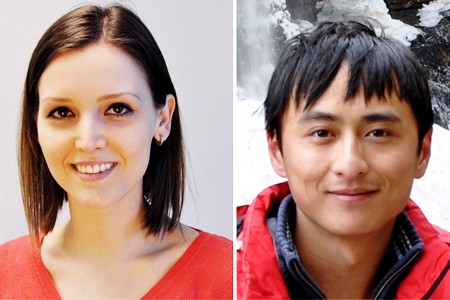 Electrical engineering PhD students Jelena Marasevic and Jin Zhou have won a 2015 Qualcomm Innovation Fellowship (QInF) for their research proposal to increase wireless throughput in WiFi and cellular networks. Their collaborative work could enable higher upload and download speeds and a more flexible use of wireless technology. The $100,000 fellowship will help fund the team's ongoing research in this area and provide them with mentorship from Qualcomm engineers over the next year.
Highly competitive, Qualcomm awarded only eight winning teams from a pool of 146 proposals submitted by 18 schools. This marks the fourth straight year a team from Columbia Engineering has won the award.
"This fellowship is very important to us, not only as a financial support, but much more as a recognition of our collaborative research and our innovative ideas," says Marasevic. "We started collaborating over a year ago, and we have already made first steps towards making our research proposal a reality."
Both students, advised by Associate Professors Harish Krishnaswamy and Gil Zussman, have recently had research results accepted to premier integrated circuits and networking conferences and journals (see below). Their winning proposal for Qualcomm titled, "Realizing the Full-duplex Potential of OFDM-based Networks: from Circuits to MAC Layer," combines the varied research work by Marasevic and Zhou in full-duplex communication, simultaneous transmission and reception in wireless radios at the same frequency.

Their research aims to make full-duplex communication a reality in both WiFi and small-cell-based LTE cellular networks, a coup in wireless applications.
To address this challenge and to leverage the benefit of full-duplex operation, approaches that are completely different from those used in conventional wireless systems are required. Such non-traditional approaches are required for both CMOS radio design and Medium Access Control (MAC) design. Zhou's research focuses on innovative CMOS radio design that is able to cancel the self-interference. Self-interference cancellation (up to one billion times suppression) has been a fundamental challenge, especially when performed in a tiny nanoscale CMOS radio. Marasevic's research focuses on designing optimization techniques and algorithms that would support full-duplex communication and take maximum advantage of it.
"The collaboration between the radio and MAC designs is crucial for achieving the optimum overall full-duplex system performance," says Zhou. "There are many open questions in front of us, and knowing that Qualcomm, one of the world's largest wireless telecommunications companies, is ready to support and invest in our research is a great push forward and motivation for us to produce more exciting results and make full-duplex a reality."
Their faculty advisers share their enthusiasm and find the Qualcomm support a big win.
"We are proud of Jelena and Jin for their outstanding achievement as they managed to prepare a truly innovative and interdisciplinary proposal for this competition," says Zussman. "Despite having very different areas of expertise, they already managed to identify the interactions between the two areas, to develop corresponding models, and to obtain important research results."
Added Krishnaswamy, "Full duplex is a very exciting and rapidly evolving space, and this fellowship will provide further impetus to our collaborative research project."
More on this research:
Related Stories: