Columbia's Amateur Radio Club Makes Successful Contact with International Space Station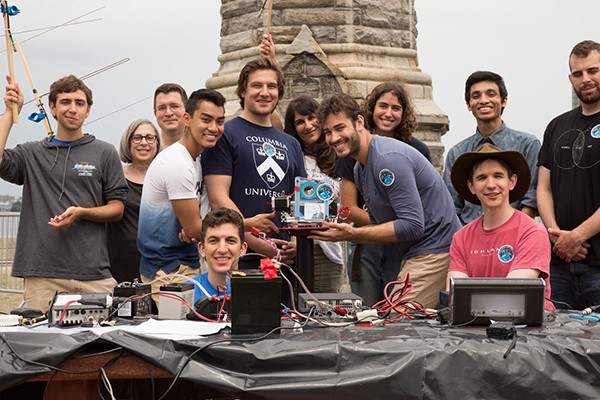 The Amateur Radio Club collaborated last summer with the Columbia Space Initiative (CSI) to create a mobile tracking and communications platform to communicate with satellites in low Earth orbit (LEO). Former astronaut and Columbia mechanical engineering professor Michael Massimino assisted the students in coordinating with NASA to arrange a contact with the International Space Station (ISS).
Participants built a 2-axis, robotically controlled system capable of directing two home-built directional antennas at the ISS and automatically tracking its motion from horizon to horizon. The project drew on students' skills in basic electronics, programming, microcontrollers, robotics, orbital mechanics, and radio operation.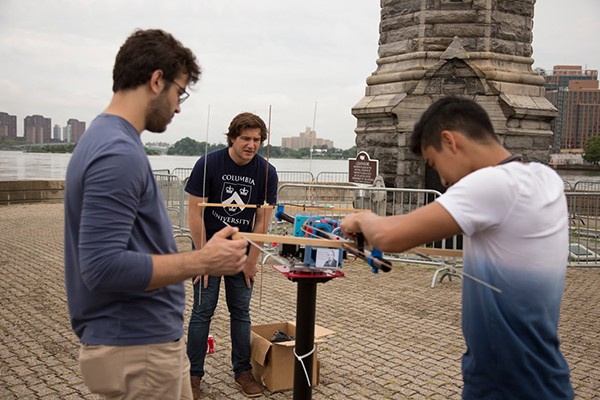 "Columbia's Amateur Radio Club," says the club's advisor, Electrical Engineering professor James Teherani, "made a difficult task look easy. All they had to do was build a satellite–tracking system from scratch that was reliable enough to establish communication with the ISS during a 10-minute transit window when the ISS was overhead. And they had to make it work on the first shot, with a limited budget and only two months' preparation."
The project was sponsored by the Armstrong Memorial Research Foundation, Inc., whose mission is to celebrate and memorialize the work of Major Edwin Howard Armstrong. Armstrong was a Columbia Electrical Engineering graduate and faculty member, as well as the inventor of fundamental radio innovations, including FM, which the ground team used to communicate with the astronauts aboard the ISS.
"I'm as proud as I can be of the team," says John Brooks, a fourth-year PhD student in the Department of Applied Physics and Applied Math and the project's mission director. "We started off with nothing but an idea and finished with a custom-built communications platform and successful radio contact with the ISS."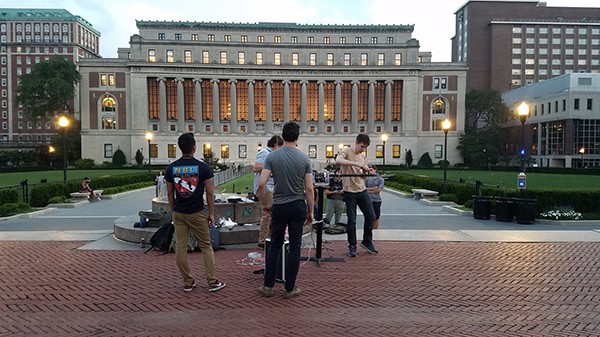 The team planned to have a second contact with the ISS in October, using an automated platform they were unable to use in August. Unfortunately, the Russian Soyuz rocket that was scheduled to deliver the Expedition 57 crew to the ISS in October had to abort its launch mid-flight; this necessitated shifts in the schedule and responsibilities of the ISS crew that prevented the contact. The second contact is tentatively rescheduled for spring 2019.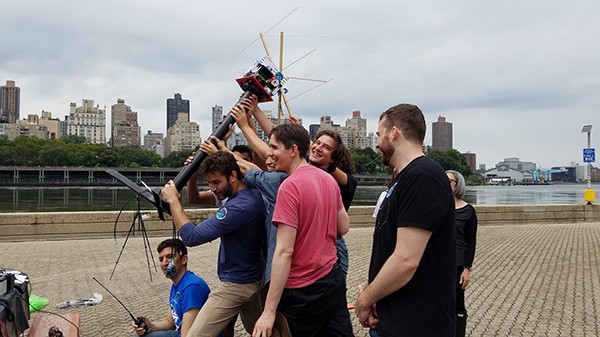 "Many in the ham radio community would consider themselves lucky just to be able to monitor radio transmissions incidental to the ISS's passing over their location," says Tony Butcher, mission director for the second contact. "For amateur radio operators, making actual contact with the ISS is the summit of their ham experience."
For more pictures visit the EE Flickr page