Christine Fleming Named to Annual Innovators Under 35 List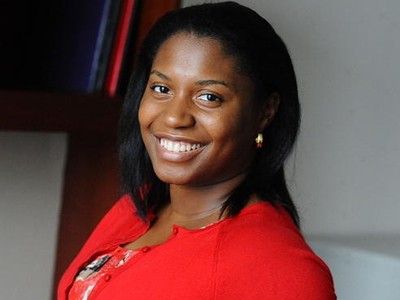 MIT Technology Review today revealed its prestigious annual list of 35 top young innovators, which includes Electrical Engineering Assistant Professor Christine Fleming. Selected from hundreds of nominations, she is being honored as an outstanding inventor on the list for her work in the field of biotechnology and medicine.
"I am thrilled to receive such a notable recognition of my work," says Fleming, whose research is focused on developing optical imaging and spectroscopy instruments for applications in cardiac electrophysiology and interventional cardiology. "I hope this will draw attention to cardiovascular disease, which is the leading cause of mortality in the United States—it's critical that we continue to develop technologies to detect abnormalities at early stages and develop effective therapies to treat this pervasive illness."
Fleming is working on giving cardiologists a powerful new tool: high-resolution films of the living heart, available in real time during cardiac procedures. To do this, she is using optical coherence tomography (OCT), a non-invasive imaging technique that provides depth-resolved, high-resolution images of tissue microstructure in real-time, and designing flexible catheter probes to image various parts of the body, including the heart chambers.
"You can think of OCT as 'optical ultrasound'," she says. "It provides imaging reflections from within tissue to provide cross-sectional images, at a much higher resolution than other imaging techniques such as MRI or ultrasound."
Fleming hopes her technology will help doctors find the source of irregular heart rhythms, develop more effective therapies without invasive biopsies, improve early diagnosis, and even monitor treatment.
Fleming joined Columbia Engineering in 2012 after completing her doctoral work at Case Western Reserve University and post-doctoral work at Harvard Medical School. As a postdoctoral fellow at Harvard, Fleming developed signal and image processing algorithms to identify cholesterol deposits within OCT images of coronary arteries.
For more than a decade, MIT Technology Review's Annual Innovators Under 35 List has recognized exceptionally talented technologists whose work has great potential to transform the world. "Over the years, we've had success in choosing women and men whose innovations and companies have been profoundly influential on the direction of human affairs," says editor in chief and publisher Jason Pontin. "Previous winners include Larry Page and Sergey Brin, the cofounders of Google; Mark Zuckerberg, the cofounder of Facebook; Jonathan Ive, the chief designer of Apple; and David Karp, the creator of Tumblr. We're proud of our selections and the variety of achievements they celebrate, and we're proud to add Christine to this prestigious list."
This year's honorees will be featured online at technologyreview.com starting today, and in the September/October print magazine, which hits newsstands worldwide on September 3. They will appear in person at the upcoming EmTech MIT conference from October 9 to 11 in Cambridge, MA.