EE alumnus Alex Bell's (MS' 11) work featured in The New York Times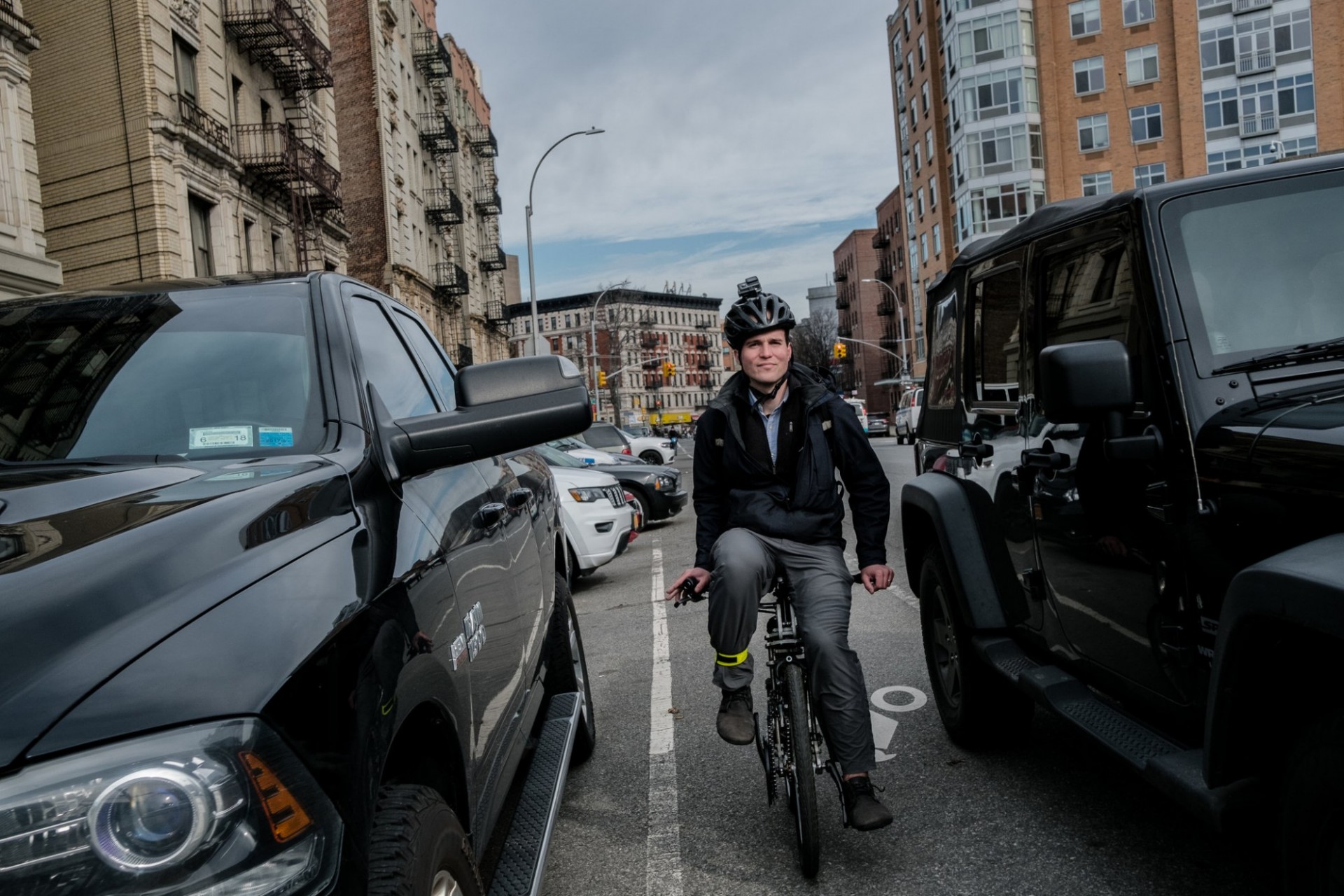 Alex Bell hates it when the designated bike lane he is pedaling down is blocked. So, too, do many cycling New Yorkers. But Mr. Bell hates it so much that he has tried to do something about it: Three years ago he sued U.P.S., targeting the delivery company's trucks for blocking his bike path, a case he lost that is in its second round of appeals.
Now Mr. Bell is trying another tack — the 30-year-old computer scientist who lives in Harlem has created a prototype of a machine-learning algorithm that studies footage from a traffic camera and tracks precisely how often bike lanes are obstructed by delivery trucks, parked cars and waiting cabs, among other scofflaws. It is a piece of data that transportation advocates said is missing in the largely anecdotal discussion of how well the city's bus and bike lanes do or do not work.
At a time of intense criticism of New York's poorly performing public transportation, Mr. Bell has expanded his study to also look at the flow of bus lanes in a city where the fleet operated by the Metropolitan Transportation Authority inches along at an average speed of seven miles per hour, making it the slowest major bus system in the country.
The blocking of bus and bike lanes has become a sore spot among transportation advocates who believe the city's enforcement efforts are inadequate.
Mr. Bell's project focused on one city block — St. Nicholas Avenue between 145th and 146th Streets — over the course of 10 days. His preliminary findings were stark: Using traffic-camera footage trained on one bus stop and two bike lanes (one for traveling north, the other for heading south), Mr. Bell found that the bus stop was blocked 57 percent of the time, while the bike lanes were blocked 40 percent of the time.

"Everyone keeps talking about the bus lanes being blocked, and buses being so slow I could just say, 'Oh they are so blocked, it's so bad,' — but that's not very helpful," Mr. Bell said in an interview. "I thought to myself, 'How could you show to everyone that bus stops and bike lanes are routinely blocked?' "
As the city has rolled out a total of 101 miles of specially designated bus lanes throughout the city, keeping them clear has emerged as a major challenge — what good is a bus-only pathway if it is blocked by an idling car, mail truck or even a police officer? The same goes for the 435 miles of unprotected bike lanes that are painted green and lace New York's streetscape.
But no data exists that captures the scope of the problem in a quantifiable way. In its absence, biking and transit advocates have taken matters into their own hands, posting photos of offenders, including government and police vehicles, on social media as a way of countering the problem through public shaming.
The enforcement that does exist through the use of cameras is slim: Just 12 of the city's 317 bus routes have cameras mounted on objects like streetlights that are similar to red-light cameras. Any plan to add more such cameras must be approved by the State Legislature.
Enforcement along bus lanes and bike paths is primarily the responsibility of the Police Department. Last year, police officers issued over 2,000 moving violations to vehicles traveling in bus lanes, about 24,000 parking tickets for blocking lanes and about 79,000 parking tickets for impeding bike lanes. Data does not exist for moving violations in bike lanes, which the police began tracking this year.
While those numbers seem impressive, advocates believe it barely touches the severity of the problem. "Based on anyone's observation, bus lanes in New York are chronically blocked,'' said Paul Steely White, the executive director of Transportation Alternatives, a bicycling advocacy organization.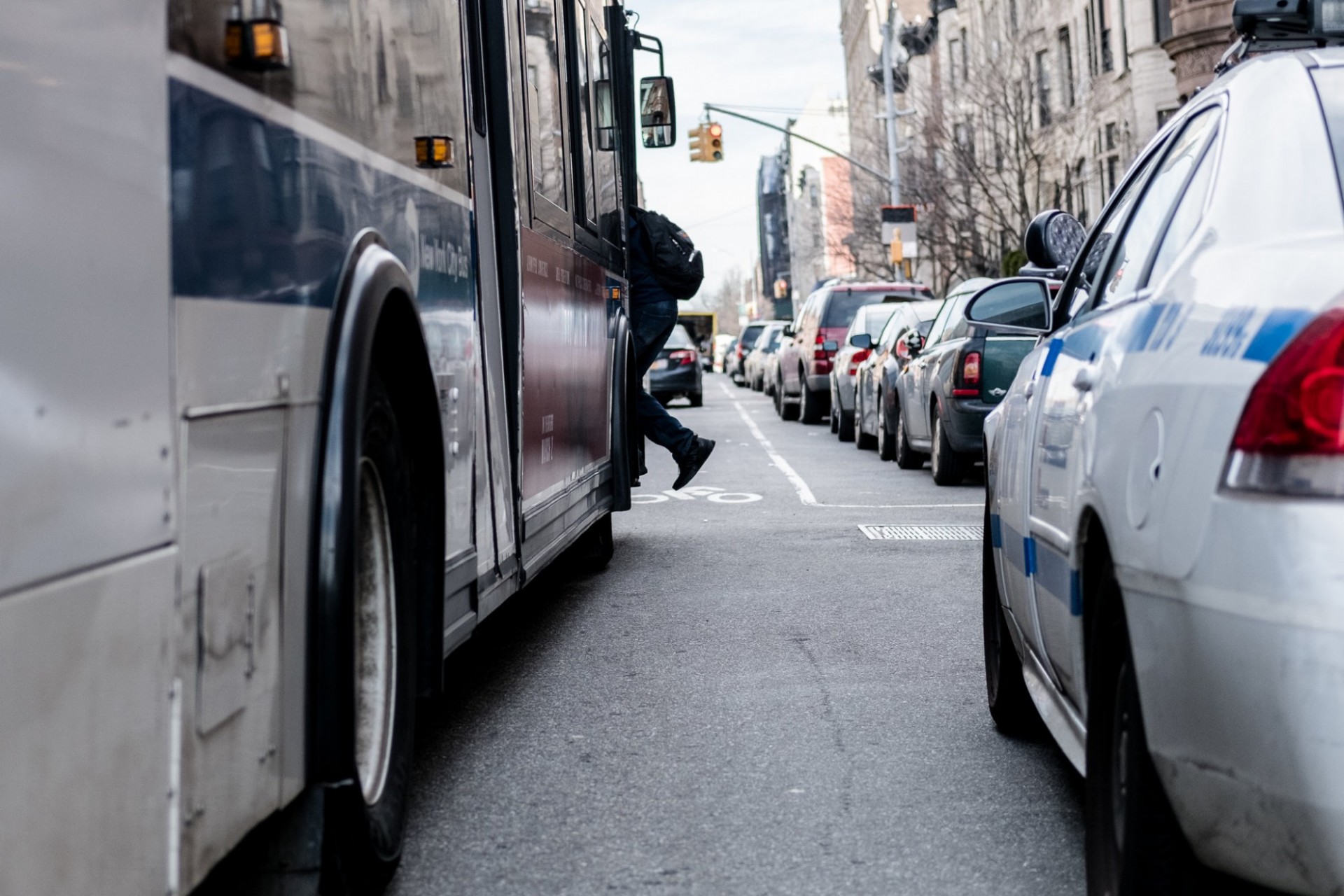 Andy Byford, the president of New York City Transit, has met with the Police Department to encourage the agency to increase its vigilance. Blocking the bus lane, "is selfish, and it's unacceptable," Mr. Byford said in a recent interview aboard a bus that was forced to swerve in and out of a designated bus lane to avoid parked vans and idling taxis.
"I get that people have to deliver things, but the bus lane should be for the buses, period," Mr. Byford said, adding that the transit agency is developing a plan to improve bus service that may include adding front-facing cameras mounted on buses, a measure that other cities have taken to strengthen enforcement of bus-only lanes.
Increasing the number of bus and bike lanes, but under-enforcing the rules to keep them unimpeded, "is one of these programs that ratchets up New Yorker sincere cynicism about government doing the right thing," Mr. White said.
To gather actual data on how often blockages occur, Mr. Bell downloaded 10 days of publicly available video from a Department of Transportation camera mounted on a traffic light at the corner of 145th Street and St. Nicholas Avenue. Then he fed over 2,000 images of different types of vehicles, like trucks, buses and cars into his computer, training it to identify what exactly was blocking the way. In the case of bus stops, for example, Mr. Bell adjusted the computer program so that it was able to differentiate between buses that are supposed to be there from vehicles that were sitting there illegally.
His work took about three weeks. After the programming was complete, it took the computer about a day to crunch though the 10 days of footage. Mr. Bell's program only measured the percentage of time the lanes on his test block were obstructed, but from that he said he was able to extrapolate actual numbers and calculated about 850 vehicles blocking the bike lane and over 1,000 in the bus lane. He has made the source code he developed to monitor the lanes free and publicly available online in the hope that it will be picked up and used to amplify the extent of the issue.
"I want to raise up New York City," said Mr. Bell, who grew up on the Upper West Side, and attended Horace Mann School and Columbia University. "I never want to live anywhere else, but we have big problems. We have big problems especially when it comes to transportation. I am hoping that just seeing the data will help it be less ignorable."
Original article can be found here.