Young Alumni Profile: Michael Wang, Recently named in Forbes 30 Under 30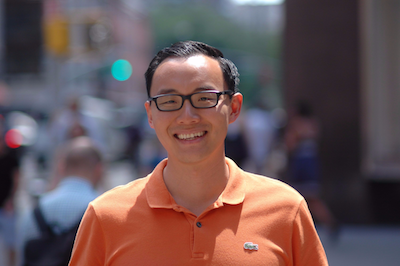 Michael Wang has recently been named a Forbes 30 under 30 in Manufacturing & Industry.  A recent doctoral graduate of Professor Keren Bergman's Lightwave Research Lab,  his work is at the intersection of engineering, design, technology, and health & well-being.
As Co-Founder and Chief Engineer at FutureAir (http://blog.futureair.nyc), Michael is re-imagining the world of indoor air. He is leading the development and integration of an IoT sensing platform and app that will improve indoor airflow, comfort, and energy efficiency. FutureAir is a NYC-based startup that aims to revolutionize indoor airflow with a new generation of smart, connected room air conditioners and fans to reduce wasted cooling and carbon emissions. He is building FutureAir together with a visionary industrial designer and a team of scientists, mechanical engineers, and other industry experts to seamlessly integrate design, engineering, and technology into a line of products that will change the way we cool our indoor spaces.
Michael is also an Adjunct Assistant Professor of Electrical Engineering at Columbia University and, as such, participating in building out the IoT curricula at the Engineering School, building relationships between the university and industry affiliates. He co-developed the curriculum and co-taught the university's first graduate level IoT course, ELEN E6765: Internet of Things - Theory and Practice (http://iotcolumbia.weebly.com), training students in three domains: programming of sensors and sensor data acquisition, processing of sensor data in gateways and hubs, and cloud data analytics and interaction with IoT devices. Michael and Professor Zoran Kostic organized the course to give students a bigger perspective on current and future uses for IoT—through 12 guest speakers (industry experts, executives, entrepreneurs) from the field. Students also learned through hands-on experience by programming their own devices and working with each other and the teaching staff to use the devices to create their own projects. The course culminated in a Demo Night at which the students presented their projects.
Michael has also co-founded the IoT Central NYC Meetup (http://www.meetup.com/NYCIOT/), which has become one of the top ten most popular IoT meetups in the world. This group, which draws startups, entrepreneurs, engineers, scientists, designers, developers, software and hardware people interested in advancing the IoT, already has almost 3000 members. Michael continues to produce monthly events focused on a diverse range of horizontal and vertical subjects related to IoT, with a robust networking component, as well. Their annual flagship event is the NYC Internet of Things Fair. Last December, more than 20 companies exhibited, ranging from IoT startups to large companies including Atmel, Microsoft and IBM. Approximately 500 people attended this event.