Prof. Christine Hendon Received the Presidential Early Career Award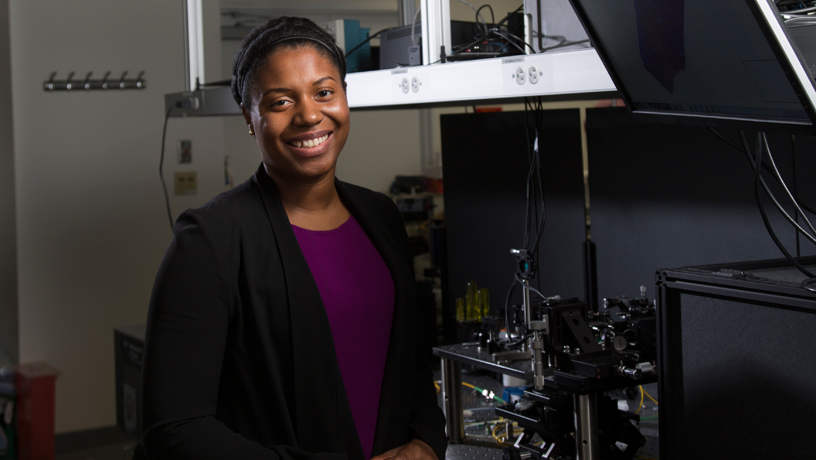 Christine Hendon, assistant professor of electrical engineering at Columbia Engineering, has won the Presidential Early Career Award (PECASE), the highest honor the U.S. government gives to young scientists and engineers. Hendon, who develops innovative medical imaging instruments for use in surgery and breast cancer detection, is one of 102 researchers from across the nation named by President Obama on January 9.
"I congratulate these outstanding scientists and engineers on their impactful work," President Obama said. "These innovators are working to help keep the United States on the cutting edge, showing that federal investments in science lead to advancements that expand our knowledge of the world around us and contribute to our economy."
Hendon's research is focused on biomedical optics, a medical technology that does not rely on radiation. She is developing optical imaging and spectroscopy instruments for surgical guidance and has earned numerous honors for her groundbreaking work. In 2015 she won a National Science Foundation (NSF) Faculty Early Career Development (CAREER) award; in 2014 she received a National Institutes of Health (NIH) New Innovator Award; in 2013 she was named to both MIT's prestigious list of 35 Innovators Under 35 and the Forbes 30 Under 30 list of game changers in science and health care.
"A PECASE award is an incredible honor," Hendon said. "For a young researcher, this is the pinnacle of recognition, and I am thrilled to be included in this brilliant group. It is wonderful to see the White House acknowledging scientific accomplishments from investigators working on a diverse array of problems. I am very much excited to continue the research that my laboratory has been working on for the past four years and hope to see it widely used in the future."
Hendon is developing optical tools that aim to provide surgeons with a clear understanding of the tissue on which they are operating. She uses near-infrared spectroscopy and optical coherence tomography (OCT), a non-invasive imaging technique nicknamed "optical ultrasound" that provides depth-resolved, high-resolution images of tissue microstructure in real-time. These "optical biopsies" offer much higher resolution than current medical imaging options such as magnetic resonance imaging (MRI), positron emission tomography (PET), and ultrasound. Using OCT, a surgeon could image a wide area of tissue and, unlike invasive biopsies, remove as little tissue as possible. Hendon is currently working with Vivek Iyer, a cardiac electrophysiologist at Columbia University Medical Center, to explore the use of OCT and spectroscopy in the treatment of heart arrhythmias, where surgeons often use a catheter to detect abnormal electrical signals and then apply radiofrequency energy to remove scar tissue in the malfunctioning area.
Other projects running in Hendon's Structure Function Imaging Laboratory include using optical tools to detect and image breast cancer. She is working with breast surgeon Sheldon Feldman and pathologist Hanina Hibshoosh at Columbia University Medical Center to identify tumors localized to the duct and eventually to image lesions over time to determine which are likely to progress to cancer. Hendon is also collaborating with Columbia Engineering Associate Professor Kristin Myers on using imaging to assess the mechanical properties of the cervix in relation to preterm birth.
Hendon joined Columbia Engineering in 2012 after completing post-doctoral work at Harvard Medical School, where she developed signal and image processing algorithms to identify cholesterol deposits within OCT images of coronary arteries. She received her BS degree in electrical engineering and computer science from the Massachusetts Institute of Technology in 2004, and her MS (2007) and PhD (2010) degrees in biomedical engineering from Case Western Reserve University.
Previous Columbia Engineering professors to receive the PECASE award include Antonius "Ton" Dieker, associate professor of industrial engineering and operations research; Jose Blanchet, professor of industrial engineering and operations research; and Xi Chen, associate professor of earth and environmental engineering.
Original article can be found here.