A Project co-led by Professors Kostic and Zussman Named Winner in IDC Smart Cities North America Awards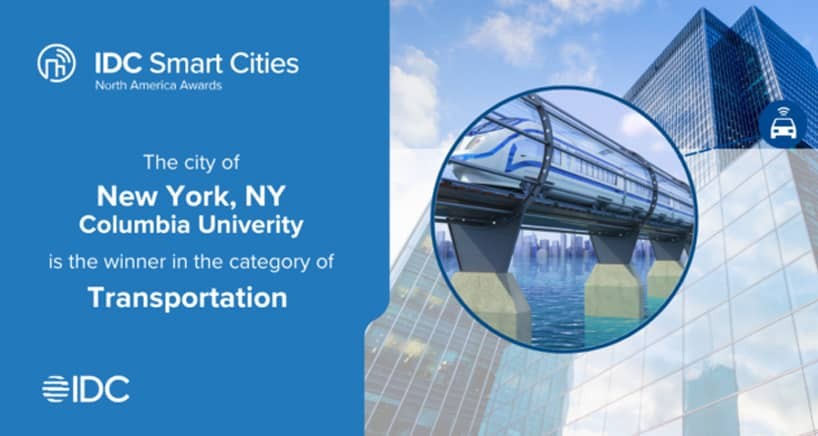 Columbia University's The Digital Twin of New York, Smart City Project, has been named a winner in IDC Government Insight's sixth annual Smart Cities North America Awards in the transportation category. Led by an interdisciplinary team from Columbia University's Fu Foundation School of Engineering and Applied Science and the Data Science Institute, the project created a digital twin of New York City, leveraging sensing data and machine learning, to optimize traffic flows while  enhancing traffic safety. The Smart Cities North America Awards (SCNNA) were created to acknowledge the achievements of North American states and municipalities in implementing Smart Cities projects and to foster the sharing of best practices to accelerate Smart City development in the region. The award will be presented to the Columbia University team led by associate professor of civil engineering and engineering mechanics Sharon Di; professor of applied mathematics, Qiang Du;  and professors of electrical engineering, Zoran Kostic and Gil Zussman, along with student and postdoctoral research collaborators. The team  will be honored at Smart Cities Connect being held May 16-18, 2023, at the Colorado Convention Center in Denver, CO. 
SCNAA recipient projects exemplify novel and best practices in leveraging technology and innovation to foster sustainable growth and economic development to meet the needs and expectations of diverse communities.
"Our annual Smart Cities North America Awards recognize the best of the best among smart city initiatives and, unlike anything else in the industry, provide a blueprint for government officials looking to execute similar projects," said Ruthbea Yesner, Vice President, IDC Government Insights and Smart Cities and Communities Strategies. "We congratulate the winners on their unwavering dedication to executing compelling projects from start to finish – leveraging cutting-edge technology to offer sustainable, new services and economic opportunities and enhancing the lives of citizens." 
About the Digital Twin Project
The Digital Twin Project is an initiative aimed at addressing the challenge of traffic congestion and fatalities in urban areas through the use of cutting-edge technology. By creating a virtual replica of New York City, referred to as a digital twin, the project will enable traffic managers to continuously monitor traffic patterns and swiftly adapt to any changes in real time. The team will leverage both roadside infrastructure and in-vehicle sensors to continuously learn and dynamically update as the traffic environment changes. This approach incorporates domain knowledge on traffic congestion to enhance predictions and ensures the system is trained using data collected from COSMOS, a city-scale wireless testbed, located in West Harlem as part of the NSF PAWR program. The Digital Twin project will provide a foundation for the recently-funded NSF Center for Smart Streetscapes (CS3) which will work to develop a rich ecosystem of streetscape applications such as road safety and traffic efficiency, built upon real-time, hyper-local intelligence to advance livable, safe and inclusive communities.
The Digital Twin Project aims to benefit cities and communities, including Columbia University's neighboring communities of Harlem, by integrating the digital twin into traffic management systems to improve road safety, enhance operational efficiency, reduce congestion, and lower emissions. To address the lack of guidelines for building a digital twin for a city, the project also prioritizes education and community outreach.
The Project is co-funded by the National Science Foundation (NSF) and Federal Highway Administration (FHWA) and has engaged with the New York City Office of Technology and Innovation. The project has also benefited from close collaboration with a European startup, Kentyou, funded by the NGI Atlantic program, and received additional funding for the US-India collaboration from the NSF and the Indian Technology Innovation Hubs (TIHs) supported by the Indian Department of Science and Technology.
For additional information about these awards or to speak with Ruthbea Yesner, please contact Sarah Murray at 781-378-2674 or [email protected].