Fourth Annual MAKECU Hardware Hackathon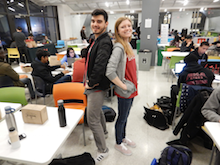 On February 24–25, 70 students from Columbia and other schools gathered on the Columbia campus for the fourth annual MAKECU hackathon, organized by Columbia's IEEE chapter. MAKECU is intended to strengthen Columbia's hardware hacking community, as well as to introduce students with little or no hardware experience to a variety of tools. In addition to microcontrollers, sensors, and common circuit elements, students had access to Myo EEG gesture-control armbands, Oculus Rift VR goggles, laser cutters, 3D printing stations, and more.
The judging criteria for the prizes were sophistication of implementation, usability, technical aptitude, entertainment (i.e., hacks for the sake of hacks), and, when appropriate, dorm automation applicability.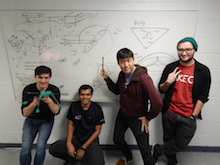 "Screw Gravity," a Halbach array hovercraft made by Columbia students Simon Anuszczyk '19, Jake Lee '19, and Thomas Orr '19, won the prizes for best overall hack and most technically challenging. The prize for best beginner hack went to three SUNY New Paltz students, Jordane Thomas, Pharez Varlack, and Evans Yeboah Jr., for a self-balancing robot. The prize for the most entertaining hack went to Columbia students William Meng '17, Haley So '20, and Albert Tai '20, for a glass-breaker that enables the non-operatically trained to shatter wine glasses with their voice. Other projects included a tricopter, an AI cane for the blind, and a gesture-controlled trash bin.
Hacking began at 4:00 p.m. on Saturday and continued through the night—snacks were provided at midnight, warm cookies at 2:30 a.m., and breakfast at 7:00 a.m. It ended at noon Sunday. The event also included a keynote speech by Alessandro Piovaccari, of Silicon Labs, Makerspace safety training, and workshops on Gecko and Arduino microcontrollers, led by Silicon Labs and IEEE members.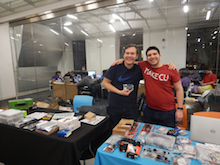 The hackathon was sponsored by the EE department and the Columbia University Makerspace, along with Silicon Labs, Microchip Technology, IEEE, the Armstrong Memorial Research Foundation, and Major League Hacking. The judges were Columbia electrical engineering professors John Kymissis, James Teherani, and David Vallancourt; Columbia mechanical engineering professor Hod Lipson; Mohamed Haroun, manager of the Columbia University Makerspace; and Mark Mulrooney, senior applications engineer at Silicon Labs.
For more pictures visit the EE Flickr page.