EE Department Sends Three Students to Society of Women Engineers 2018 Conference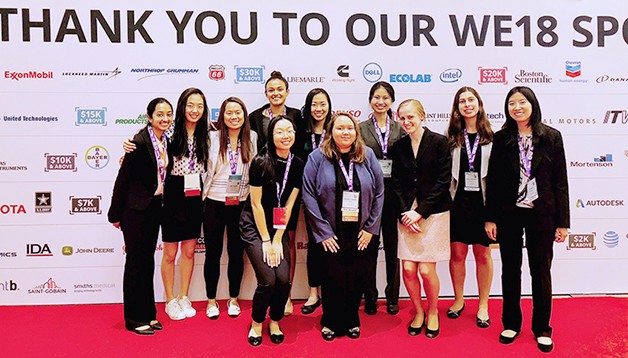 Women Engineers (SWE) 2018 career conference, which took place October 18–20 in Minneapolis, Minnesota. The three were Patricia Jastrzebska-Perfect, Haley So, and Alice Wu. Lily Zhao, vice president, external, of Columbia's SWE chapter, also attended.
The not-for-profit SWE was founded in 1950 to empower women in the engineering fields. Its activities include training, development, networking, scholarships, outreach, and advocacy. The society's main annual event is its career conference—the world's largest for women engineers. About half the attendees each year are college students. More than 14,000 attended this year's conference, the theme of which was "Let's Break Boundaries."
A central focus of the conference was the job fair. With more than 350 exhibitors, it included on-site interviews for jobs and internships. Other events were keynote addresses by industry executives, more than 300 presentations, and hands-on engineering activities for girls in grades 6–12.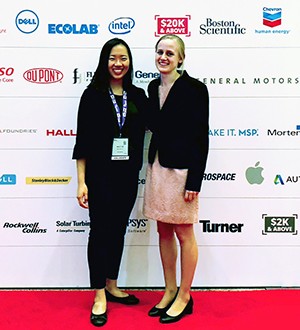 Jastrzebska-Perfect was attending the SWE conference for the second time. This year, she took better advantage of the opportunities to interview for internships. "One thing I appreciate most about SWE's job fair," she says, "is the potential for immediate feedback. Being able to speak directly with the engineers I might eventually work for helped me to realize which positions I was most interested in."
In addition to the job fair, So attended a hospitality session. "This allowed me to mingle with people from different companies in a more casual environment," she says. "It was a great way to get a sense of what people do every day on the job and to gain perspective into why they chose their respective companies."
Because Wu was able to attend for only one day, she focused exclusively on the job fair. "Though I was most excited to see the range of companies and graduate programs exhibiting at the fair," she says, "it was also reassuring to be among so many women involved in engineering—sometimes it's nice not to stand out."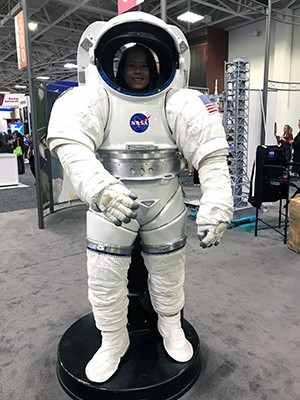 In her role as VP, external, of Columbia's SWE chapter, Zhao coordinated the department's sponsorship of the other three students. Zhao, who also attended the 2016 and 2017 conferences, says that over the past three years, she's found companies increasingly interested in hiring a diverse group of interns and employees.
So captures another aspect of the conference—as important as the practical—when she says, "In school, I sometimes get bogged down with the work and forget how exciting everything really is, so taking a break and going to the conference was wonderful."
Photo credit: Alice Wu and Lily Yurie Zhao