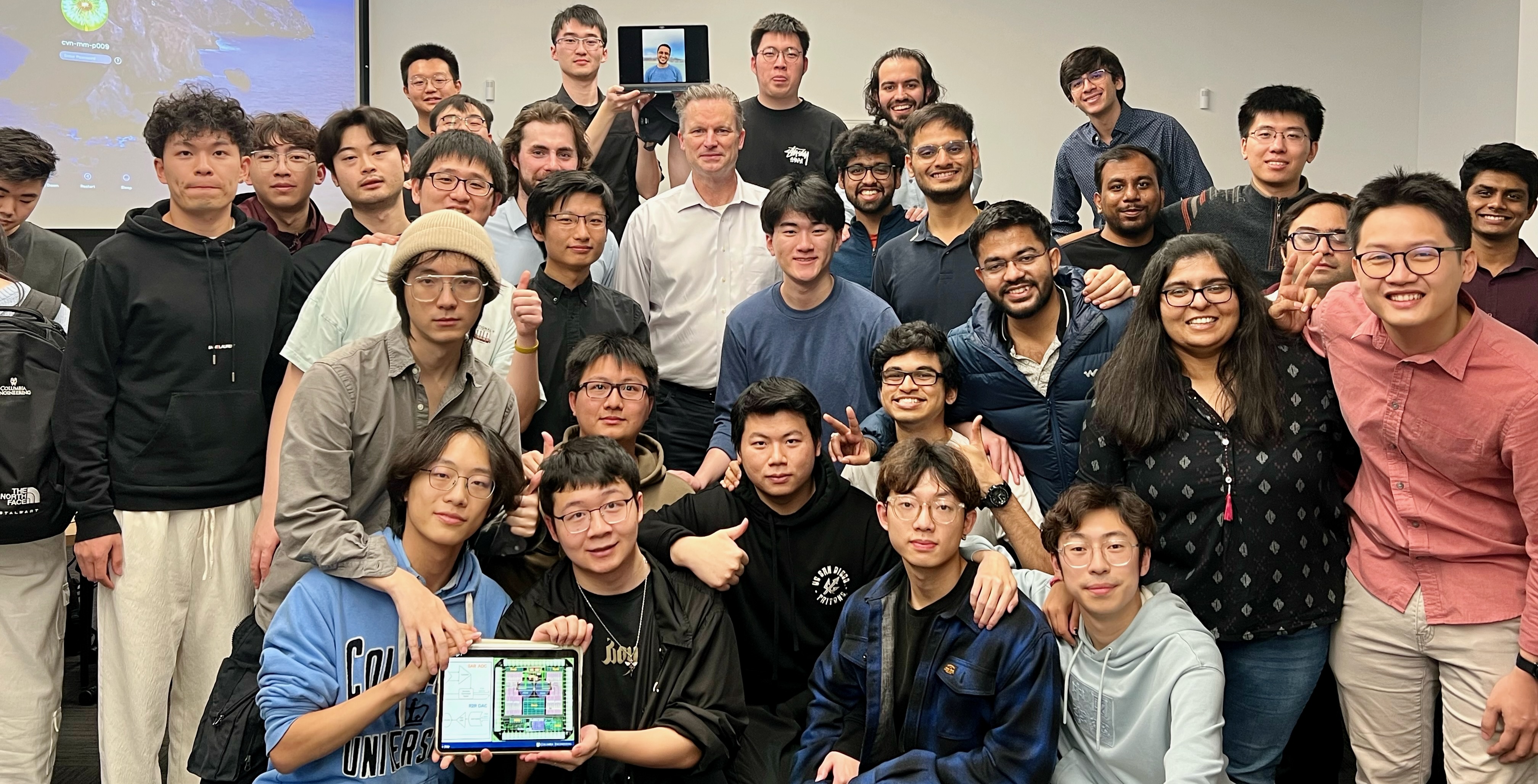 Intro
Welcome to the home page of EE6350 VLSI Design Lab for Spring 2023.
This graduate course focuses on the design, simulation, layout, verification and tape-out of an IC design. Our industrial sponsor is funding the fabrication of the chips in a 65nm CMOS foundry technology. The foundry fabricates the chips that students subsequently test in the Fall.

The TAs for the course were Hongzhe Jiang and Mor Shimsi. The course asistants were Armagan Dascurcu and Alfred Davidson. In Fall, Cade Gleekel also assisted students with PCB design and chip testing.
These projects could not have been successful without the dedication and hard work of the students and TAs/CAs. Kudos to them!
We thank Apple Inc. for sponsoring the fabrication of the chips. Many thanks to Dr. Joao Cerqueira for being the liaison to Apple for the course. Many thanks also to the EE department for supporting the teaching staff and to Prof. Ken Shepard, Richard Lee, Kington Chan, and Yoel Rio for their assistance with the course.
Enjoy the presentation videos and project websites and do not hesitate to send us your feedback. The contact information of the students is included.
Last, but not least, take a look at the work from students in earlier years; Check out the 2022, the 2016, the 2015, or the 2014, course pages. And the class is being offered in 2024, as well.
Peter Kinget, Dec. 2023
---
Projects
---
Neural Processing Unit (NPU): MNIST Digit Classifier
Tianchen Yu Tianrui Wang Yufei Jin
---
Ultrasonic Proximity Sensor
Abhinav Daga
Ang Li
Takumi Hayashi
Tianyu Yang
---
NIST 60kHz WWVB Time Signal Radio Receiver
Yidong Fang
Zerui Li
Zhipeng Fan
---
Sound Card: 10-bit SAR ADC & R2R DAC
Liwen Tang
Yanlong Zhu
Hairuo Zhu
Yixiao Li
---
Digital Clock
Xueji Zhao
Tianyu Qin
Xinyuan Fu
Gehui Liang
---
More projects to be added soon
---
---
Demo Session Fall 2023
---