Update Nov. 2022
Twelve chips have been taped-out and packaged. Students are currently finishing up their testing and making the project websites and presentation videos. Stay tuned for updates.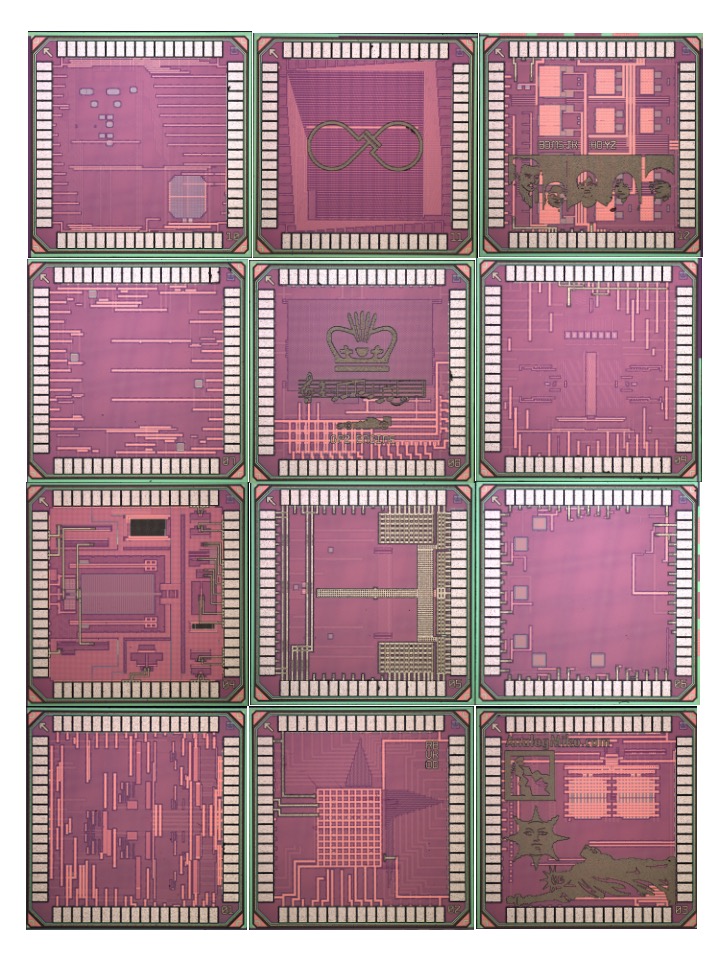 Intro
Welcome to the home page of EE6350 VLSI Design Lab for Spring 2022.
This graduate course focuses on the design, simulation, layout, verification and tape-out of an IC design. An industrial sponsor (see below) is sponsoring the fabrication of the chips in a 65nm CMOS foundry technology (subject to change). The foundry will fabricate the chips that students subsequently test in the Fall.

Check out the 2016 course page, the 2015 course page, or the 2014 course page for videos and descriptions of the projects and fabricated chips in prior years. Note that the course will be adjusted this year given that we are planning to use a different technology sponsored by an industrial sponsor.
Pre-Requisites
EE4312 Analog Electronic Circuits, or equivalent.
EECS4321 VLSI Circuits, or equivalent.
This 6000-level course is open to undergraduates with the necessary preparation who obtain registration permission from the instructor and their advisor.
How to register for this course
There is only a limited number of fabrication slots available in the budget which limits the number of students we can accommodate for this lab. Registration for this course thus requires instructor's permission.
Please read the syllabus very carefully before registering for this course.


| | |
| --- | --- |
| Step 1: | After signing up for the waitlist for the course in SSOL, you need to fill out this application form. You will receive a confirmation email from Google Forms after submitting the form. Save the email, it has a link to make changes to your application later. |
| Step 2: | The instructor (in consultation with other faculty) will then review the applications and grant or deny permission to register. We expect to process applications starting early January 2022 and target to complete the review a week before the semester starts. |
Industrial Sponsor
New in 2022 is that the class will be sponsored by industry. The fabrication and the packaging of the chips is sponsored by Apple Inc. IC design engineers from the sponsor will participate in design reviews and mentor teams; they will also offer prizes to the best designs.
Announcements
During the semester, we will mainly use Courseworks for email communications and grade-books. Make sure you have access to this class in Courseworks.