FD-CD represents for the combination of frame dropping (FD) and DCT coefficient dropping (CD). FD-CD provides the freedom in optimizing trade-off between spatial and temporal quality. Both operations can be efficiently implemented in the compressed domain without full decoding of the compressed streams.

In our MPEG-4 FD-CD experiment, we selected 2066 video clips, each of which was one second long with SIF format (352x240). The clips were carefully selected to cover a wide range of content features. Every clip was extracted from within a shot and thus no abrupt transitions like shot changes occurred within a clip. The proposed prediction framework was tested using standard cross validation evaluation method in which training and testing was done with random partitions of the pool (70% for training and 30% for testing) over multiple iterations. Four FD operators were adopted: "no frame dropped", "the first B frame dropped in each sub GOP", "all B frames dropped", and "all B and P frames dropped" (namely only keep the I frame ). For each FD, six CD levels were chosen: from 0% to 50% with 10% increment. As a result, there are four operation curves in each utility function.

We applied the above UF framework and demonstrate a content-adaptive utility-based MPEG-4 FD-CD transcoding system. Content features like texture complexity and motion intensity are extracted from each incoming video segment and used to predict the utility function based on pre-trained classifiers. The optimal adaptation operator among all possible options is then automatically selected based on the predicted utility function. Our extensive experiments show very accurate prediction of the utility function as well as the optimal operator - up to 89% in choosing the optimal transcoding operation with the highest quality from multiple alternatives meeting the same target bit rate. More importantly, the whole process of feature extraction, classification, and prediction can be done in real time without needing to use exhaustive comparison of different options.
Figure 4 below is the screen shot of our live demo system, which simulates the real time utility function prediction procedure for MPEG-4 FD-CD. It also shows the extracted features, dynamic network condition, comparison of the actual utility function and predicted one, and comparison of the final transcoded video quality.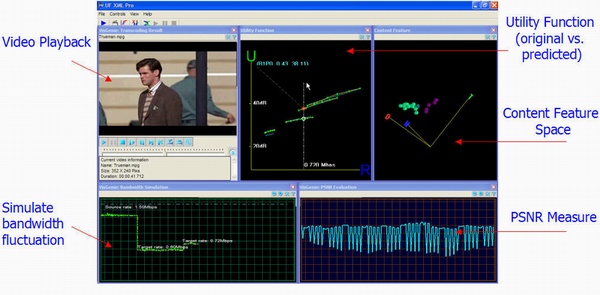 Figure 4: Screen shot of the MPEG-4 FD-CD Adaptation Demo
2) Spatio-Temporal Scalability of MC-EZBC using Subjective Quality Evaluation
Motion Compensated Embedded Zero Block Coding (MC-EZBC) is one of the latest subband / wavelet based scalable video coding (MC-3DSBC) systems. Scalable video coding based on MC-3DSBC is becoming increasingly popular, as it yields coding performance competitive with the state-of-art non-scalable codecs, while providing low implementation complexity and high flexibility to match instantaneous network conditions and different receiver capabilities. The spatio-temporal scalability of MC-EZBC is realized by truncate spatial bit planes and temporal subbands respectively, resulting in bit streams with lower temporal sampling rate (i.e., frame rate) and degraded PSNR quality.

In order to understand the influence of different MC-EZBC adaptation operations on the subjective video quality, we conducted extensive subjective tests involving 31 subjects, 128 video clips, a wide range of bandwidth (50Kbps to 1Mbps) and formal subjective quality metrics. Subjects were asked to evaluate the perceptual qualities of a few video clips generated using different spatio-temporal adaptation operations that yield the same bit rate. Figure 5 is the screen shot of the subjective test interface.
Figure 5. Subjective quality evaluation test
After obtaining subjective quality data, we analyze the results using statistical testing methods and investigate the dependence of optimal frame rate on user, bandwidth, and video content characteristics. Our findings indicate the agreement among most users and existence of switching bandwidths at which preferred frame rates change. Dependence of the preference on video content types is also revealed.

Based on these, we applied our proposed prediction framework on MC-EZBC adaptation to choose optimal adaptation operation that matches subjective perceptual quality. Statistical analysis of the experimental results confirms the excellent accuracy in using domain knowledge and content features to predict the optimal adaptation operations - We can achieve up to 95% accuracy in selecting the optimal operations, and compared with the approach using empirical data instead of content-based classification, our method can improve the performance by up to 20%. We also find interesting patterns about the preferred frame rates at different bit rates for different categories of videos.